Expect the Unexpected: Oder doch lieber forstliche Sperrgebiete beachten!!!
Arbeitsplatz vs. Sportplatz
Holznutzung im Bergwald trägt dazu bei, die Schutzwirkung des Waldes durch laufende Nutzung und Waldpflege langfristig zu erhalten. In Tirol werden jährlich mehr als 1 Mio. m3 Holz genutzt, das sind mehr als 10.000 Nutzungen/Jahr. Die Forstarbeit ist prinzipiell gefährlich und unfallträchtig. Das Unfallrisiko steigt, wenn die ArbeiterInnen durch Störungen von der Arbeit abgelenkt werden.
Wandern, Biken, Laufen, Schwammerlsuchen, Nordic Walking – die Liste der legalen Aktivitäten im Wald ist lang und wird immer länger. Zusätzlich sind in den letzten Jahren mehr als 5.000 km MTB-Routen und Singletrails durch Nutzungsübereinkommen mit den WegehalterInnen entstanden. Diese sind bei der Waldarbeit ebenfalls zu berücksichtigen.
"Expect the Unexpected" sollte sich weder für ForstarbeiterInnen noch MountainbikerInnen bewahrheiten, wenn offizielle Absperrungen respektiert werden. Auch für die eigene Sicherheit ist es in jedem Fall besser forstliche Sperrgebiete nicht zu durchqueren.

Arbeitsfeld absperren – Warum?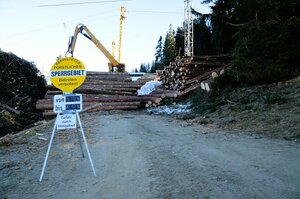 Haftung
WaldeigentümerInnen und alle an der Waldbewirtschaftung mitwirkenden Personen haften bei Unfällen von Dritten in einem ordnungsgemäß abgesperrten Arbeitsplatz nur bei Vorsatz. Bei fehlender oder mangelhafter Absperrung kann eine Haftung auch aus grober Fahrlässigkeit entstehen.
Ungestört arbeiten
Perfekte Absperrungen sind mit einigem Aufwand verbunden. Sie sorgen aber dafür, dass die Arbeit nicht ständig unterbrochen werden muss und die Unfallgefahr durch Ablenkung geringer ist.
Viel los im Wald!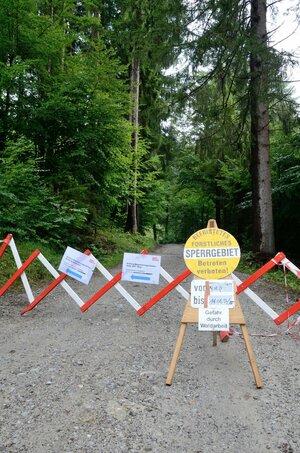 Tafeln reichen mancherorts nicht mehr aus.
In manchen Regionen ist ständig reger Betrieb im Wald. Rechtlich wäre die offizielle Sperrgebietstafel zwar ausreichend, trotzdem ist ungestörtes und vor allem sicheres Arbeiten nur schwer möglich. Hier sind zusätzlich Maßnahmen für eine wirksame Absperrung nötig.
Bei stärker frequentierten Forst- und Wanderwegen wird daher empfohlen mit Barrieren zu arbeiten, die unübersehbar sind und Wanderer und Wanderinnen oder RadfahrerInnen davon abhalten, forstliche Sperrgebiete zu betreten.
Stetige Kontrolle und Dokumentation ist im Schadensfall sicher hilfreich!
Wer es nicht weiß, dreht auch nicht um!
Eine frühzeitige Information an WaldbesucherInnen ist entscheidend und kann viele Probleme verhindern. Daher ist es wichtig am Wegbeginn rechtzeitig Auskunft über Ort, Grund und Dauer der Sperre zu erteilen und die Sperre wenn möglich auch über andere Kanäle (elektronische Medien) frühzeitig anzukündigen. Auch Alternativrouten sollten gleich zu Beginn vorgeschlagen werden. Offizielle Sperrtafeln werden dadurch nicht ersetzt und sollten immer ca. 70 m vor dem Gefahrenbereich/Arbeitsfläche aufgestellt werden.
Digitales Sperrmanagement
In der Sommersaison 2020 startete die Erfassung von Wegsperren mit Hilfe einer speziellen App. Die gesammelten Daten sind über einen Server für Tourenplanungsplattformen verfügbar und betroffene WegehalterInnen werden automatisch über die Sperre "ihres" Weges informiert.
Blocking off the working area - why?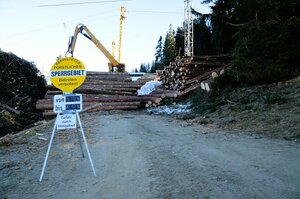 Liability

Forest owners and all persons involved in forest management are only liable for accidents caused by third parties in a properly cordoned-off workplace in the event of intent. In the absence of a barrier or a defective barrier, liability may also arise from gross negligence.

Working undisturbed

Perfect barriers are associated with some effort. However, they ensure that work does not have to be constantly interrupted and the risk of accidents due to distraction is reduced.


Lots going on in the forest!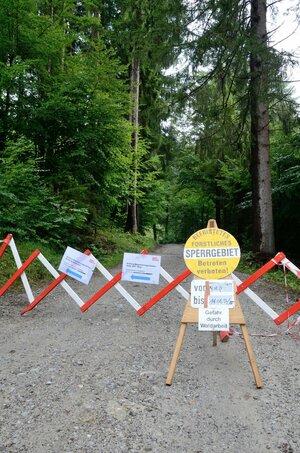 Boards are no longer sufficient in some places...

In some regions there is always a lot of activity in the forest. Legally, the official restricted area board would be sufficient, but undisturbed and above all safe working is difficult. Additional measures for an effective cordoning off are necessary.

In the case of more heavily used forest and hiking trails, it is therefore recommended to work with barriers that cannot be overlooked and which prevent walkers or cyclists from entering restricted forest areas.

Constant monitoring and documentation is certainly helpful in the event of damage!
Whoever does not know, does not turn back!
Early information of forest visitors is crucial and can prevent many problems. It is therefore important to provide information about the location, reason and duration of the closure in good time at the start of the trail and, if possible, to give early notice of the closure via other channels (electronic media). Alternative routes should also be suggested right at the beginning. Official roadblock boards are not replaced by this and should always be placed approx. 70 m in front of the danger area/working area.
Digital blocking management
In the 2020 summer season, the recording of immobilisations will start with the help of a special app. The collected data will be available via a server for route planning platforms and affected route holders will be automatically informed about the blocking of "their" route.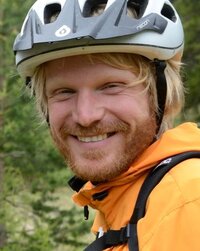 Contact:
Lars Lotze
Province of Tyrol - Department for Forestry Conservation
Bürgerstr. 36, 6020 Innsbruck
Tel.: +43 512 508 4603