Ski slope tours: Safe & Fair
The province of Tyrol, as a mountain and skiing sports province, is committed to ski touring and piste touring. This sport is particularly valuable as a safe experience of nature, for recreation and for promoting health and fitness in the open air.
The strongly growing number of active people is an expression of the great interest and social needs for sporting exercise, active recreation and meaningful leisure time activities of the local population in winter.
However, there are also more and more complaints about ski tourers. They would obstruct the downhill skiers and snowboarders as well as the preparation work with modern winch technology, endanger themselves and others and rut the freshly prepared slopes in the evening.
The Tyrolean piste touring model "Safe & Fair" is based on the precept of mutual respect and fairness in sport and essentially comprises three main pillars:
-1-
Adherence to the 10 piste touring rules and the 10 FIS rules as a code of conduct and "rules of the game" of the sport.
-2-
Signposting of piste touring routes with the Tyrolean piste touring guidance system as a steering measure to disentangle the flow of skiers
-3-
Piste tour evenings on which the piste is not prepared until later for safe sporting activity
Ski resorts with guidance system
A clear guidance system that marks the optimal and safest ascent track in the terrain is an essential contribution to the disentanglement of ascending ski mountaineers and descending skiers. The nationally uniform layout supports the recognition value. In the 21/22 season, the following 14 ski areas used this guidance system:
Axamer Lizum
Glungezer
Hochfügen
Hochzeiger
Innsbruck-Patscherkofel
Kitzbühel-Bichlalm
Kitzbühel-Gaisberg
Kitzbühel-Resterkogel
Kitzbühel-Schwarzkogel
Pillersee-Buchensteinwand
Pitztaler Gletscher
Seefeld-Rosshütte
Serfaus-Fiss-Ladis
St. Johann in Tirol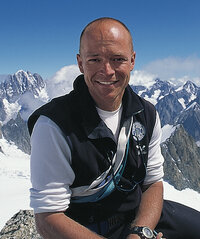 Contact Department for Sport:
Mag. Dr. Christoph Höbenreich
Province of Tyrol - Department for Sport
Eduard-Wallnöfer-Platz 3, 6020 Innsbruck
Tel.: +43 512 508 3191